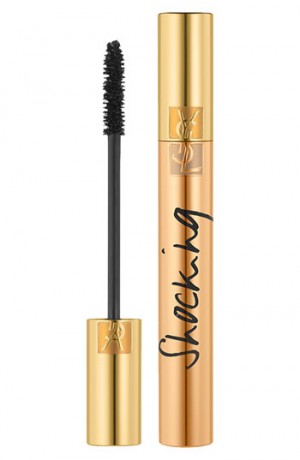 Hi lovelies! So I just received a sample of
YSL Shocking mascara
from Sephora's 100 point reward gift, and I fall in love. I have always been a fan of YSL mascaras because they are really volumizing and lengthening, but the downside is they are very expensive. So, when Sephora has its free sample for 100 points, so of course I could not miss it.
When I am having a day off from work, it also means it is a free makeup day. If I have to go somewhere, I just put on mascara and I am good to go. So yesterday was my day off, and I wore this mascara, and I was literally shocked after one sweep of it. My lashes were twice longer and thicker. This is seriously a really wow product.
YSL Shocking mascara is supposed to exaggerate your lashes to make it like you are wearing false lashes. It also says that the amplified helix brush adds more volume to the lashes. The wand itself is not too big, not too small, I would say it is like a slim wand, which allows the application easier no matter if you have larger or smaller eyes. The wand is also the perfect size to coat lower lashes. It coats evenly and gives a more dramatic doll look.
I like to apply two to three coats of it to give me that faux lashes look. Also, the mascara won't clump your lashes, it gives you a wet look instead, although it is dry to the touch. And you know how sometimes you will have a few of black fall outs on your cheeks from mascara during the day? YSL Shocking won't give you that. I wore it for 12 hours and my lashes still looks the same as I applied it in the morning. It holds curl really well too.
It comes in four shades: Deep Black, Black Bronze, Sea Black and Cherry Black. And of course the one I have is the deep black one. The color is exactly how it says, it is the blackest black that gives your lashes a thicker and fuller look.
All YSL mascaras comes in a elegant gold tube, but I apologize I can't show you the full size one for now. I am considering to buy the full size one once I am done with the sample.
Overall, love love love this mascara. It is not only volumizing and lengthening, but it is also long-wearing and holds the curl for a long period of time. This is a perfect mascara for everyone, and I wish it would not be so expensive :( Especially you have to throw your mascara every three months and change into a new one.
Where to buy: Sephora, $30 for 0.2oz.
What do you think of a high-end mascara? Is it worth the money? Let me know in the comment below! And lets be friends guys!
Add me! Add me! :)
Facebook: www.facebook.com/alexandraubymakeup
Twitter: www.twitter.com/alexandrauby
Win a free MAC goodie! Click here to enter :)
Photo above is from here.
I love you,
Alexandra
YSL Shocking Mascara (sample size)
YSL Shocking Mascara
YSL Shocking Mascara
I have no makeup on AT ALL! Just the mascara ;)